Last updated
11 months ago
Triumphant in Suffering
04-04-2020
Key Verse
2 Tim 1:12 ???For this reason, even though I suffer (pascho) as I do, I am not ashamed; for I know whom I have believed, and I am convinced that He is able to guard what I have entrusted to Him for that day.???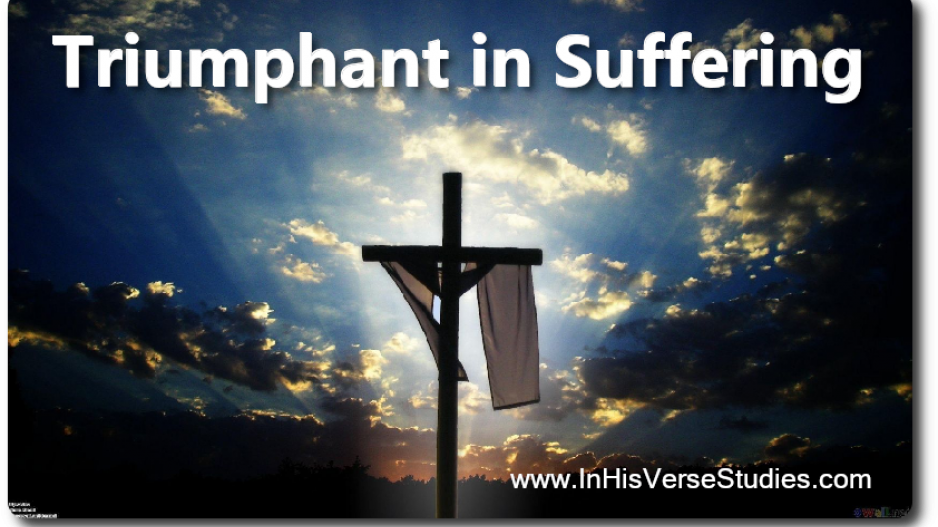 Everyone experiences suffering, because we live in a fallen world.. Especially at this time, during the 2020 coronavirus pandemic, America is going through some unprecedented social and economic trials. In these times, it???s good to revisit some of the basics taught in scripture concerning suffering.
??
Scriptures about suffering contain two major themes: Foremost, don???t be ashamed of suffering, an idea that is long lost in our western culture. Second, Godly suffering always brings with it spiritual growth, it always restores us, secures us, strengthens us and establishes us. Suffering one of the methods God uses to make our faith grow.
??
We begin by looking at a verse where Paul describes suffering. He uses the Greek word pascho, which means ???to experience a sensation (usually painful). ??? He then makes two bold statements: ???I am not ashamed,??? and that ???He is able to guard??? or keep watch over me. The Greek sentence means ???He is able to keep watch over my deposit??? until the day he comes. Paul considered that the suffering he experienced in his trials would accumulate and bring glory to God. So, Paul is saying, ???no shame,??? and ???great reward,??? surrounding his trials.
??
2 Tim 1:12 ???For this reason, even though I suffer (pascho) as I do, I am not ashamed; for I know whom I have believed, and I am convinced that He is able to guard what I have entrusted to Him for that day.???
??
It shouldn???t surprise you that Paul understood that suffering comes with a stigma of shame. People of centuries past, just like people today can be either embarrassed or in denial over their suffering. Paul confronts the issue, stating we should never be ashamed of the testimony of Jesus or of him. To bring out the full understanding of this message, you have to read the verses in reversed order. Let???s start with 2 Tim 1:8. We see in this verse, Paul talks about not being ashamed of Christ; instead joining him in suffering. He???s revealing a hidden truth about tough times: Suffering through trials releases the power of God.
??
2 Tim 1:8 ???So do not be ashamed of the testimony of our Lord, or of me, His prisoner. Instead, join me in suffering (synkakopatheo) for the gospel by the power of God.???
??
It???s in the previous verse, verse 7, where Paul explains the effect of going through Godly suffering. He says we do not have a spirit of timidity, but power, love and self-control. Think about that a minute. Bring it personal. Your shame, the feeling you get whenever things go wrong, is a common emotion, felt by millions, going back through our time on the planet. There is no reason to be ashamed when suffering comes. Shame is not because you???ve failed; it???s just part of life, and an essential way that God brings growth to you. You have received the Holy Spirt. He brings you power, love and self-control. His power overcomes timidity (Greek: fearfulness).
??
2 Tim 1:7 ???For God has not given us a spirit of timidity, but of power, love, and self-control.??
??
Get prepared: Everyone who has a close walk with Christ will be called at times to suffer. Indeed, suffering extends to every human being, but not for the same reason. Every apostle suffered, along with every prophet and especially Paul. Suffering was part of Paul???s calling. Paul willingly accepted it; for he said ???for me to live is Christ, and to die is gain. (Phil 1:21)??? But it wasn???t only to suffer. Paul had an experience that God wants all his children to have. He was selected by God ??? Greek ekloge, ???the act of picking out, choosing;??? often translated ???election.??? Jesus called Paul his instrument - Greek skeuos, his ???vessel, implement, equipment or apparatus;??? also translated possession. ??God has called every one of us to be his child, picked out from among the many, an instrument that brings his love to the world. All we need to do is believe and say yes, Lord.
??
??
Acts 9:15 ???Go!??? said the Lord. ???This man is My chosen instrument to carry My name before the Gentiles and their kings, and before the people of Israel.?? 16 I will show him how much he must suffer (pascho) for My name.???
??
Worldly wisdom says suffering is useless, leads to more suffering. God???s kind of suffering leads to resurrection. It means we deny what our natural mind says. The tendency to view suffering as useless is a common thought we all have. Peter expressed it; saying that Christ???s should never have to go through the suffering at the cross. That thought, along with our thoughts that no good can arise from suffering receives a stern correction from Jesus: ???Get behind me, Satan.??? God, who is all knowing, has plans that are meant to bring you good, bring you healing, to bring you peace; after you???ve decided to do things his way.
??
Matt 16:21 ???From that time on Jesus began to show His disciples that He must go to Jerusalem and suffer (pascho) many things at the hands of the elders, chief priests, and scribes, and that He must be killed and on the third day be raised to life.?? 22 Peter took Him aside and began to rebuke Him. ???Far be it from You, Lord!??? he said. ???This shall never happen to You!????? 23 But Jesus turned and said to Peter, ???Get behind Me, Satan! You are a stumbling block to Me. For you do not have in mind the things of God, but the things of men.???
??
It???s important you reject the line of teaching that says ???suffering is always from Satan.??? As I???m writing this, America and the whole world are going through a Coronavirus pandemic. Millions have lost their job, told to stay at home, isolated from friends and job. Thousands have died due to the virus. An argument could be made that this virus is of satanic origins and it would most likely be correct, but consider what God is working in the middle of the suffering: It is good to suffer so that this virus will not spread to others. ??Peter tells us that it???s better to suffer for doing the right things. He relates that kind of suffering to God???s will.
??
1 Pet 3:17 ???For it is better, if it is God???s will, to suffer (pascho) for doing good than for doing evil.?? 18 For Christ also suffered (pascho) for sins once for all, the righteous for the unrighteous, to bring you to God.???
??
Any suffering that comes about because of God???s will, will end in resurrection and an infilling of the Holy Spirit. The model for this is the same model we live our lives by: We died with him, and since he arose, we rise with him. The model is found in Luke 24:46, where Jesus commands the disciples to wait by themselves in the city until they are clothed with power from on high. This waiting was a command to suffer, to wait. I???m sure the disciples wanted to be anywhere other than the place where the Lord was crucified. After this suffering, they will receive the promise of the power of God; the gift of being clothed with the Holy Spirit. The Greek word for ???clothe??? is endyo, means ???put on clothing??? ??? God will clothe you with power during and after your suffering.
??
Luke 24:46 ???And He told them, ???This is what is written: The Christ will suffer (pascho) and rise from the dead on the third day,??47 and in His name repentance and forgiveness of sins will be proclaimed to all nations, beginning in Jerusalem.?? 48 You are witnesses of these things.?? 49 And behold, I am sending the promise of My Father upon you. But remain in the city until you have been clothed (endyo) with power from on high.???
??
After suffering has ended, God has a blessing for you. His grace, his wide open, loving, table of help will come to you. He???ll prepare a banqueting table and say ???come in,??? using your name personally. He???ll restore you ??? Greek word katartiz, meaning repair; he???ll secure you ??? Greek word sterizo, meaning ???turn you in the right direction;??? he???ll strengthen and establish you ??? Greek word themelioo, meaning ???place you on a firm foundation.??? Most of all, it???s through all the suffering God sends us that we are even more certain that we have the Rock of Ages as our Father; a God who safely leads us through the valley of the shadow of death.
??
1 Pet 5:10 ???And after you have suffered (pascho )for a little while, the God of all grace, who has called you to His eternal glory in Christ, will Himself restore you (katartiz), secure you (sterizo), strengthen you, and establish you (themelioo).???
Definitions are from InHisVerse Bible (IHV) - www.InHisVerse.com.
Copyright???? 2019, 2020, Jim Olsen, Olsen's Apps LLC, All Rights Reserved
Bible Quotations From: The Holy Bible, Berean Study Bible, BSB (BereanBible.com). Copyright ??2016, 2019 by Bible Hub. Unless Otherwise Noted.