Last updated
11 months ago
Healing is a Gift and a Promise
03-28-2020
Key Verse
Acts 9:34 ???Aeneas,??? Peter said to him, ???Jesus Christ heals (iaomai) you! Get up and put away your mat.??? immediately Aeneas got up,???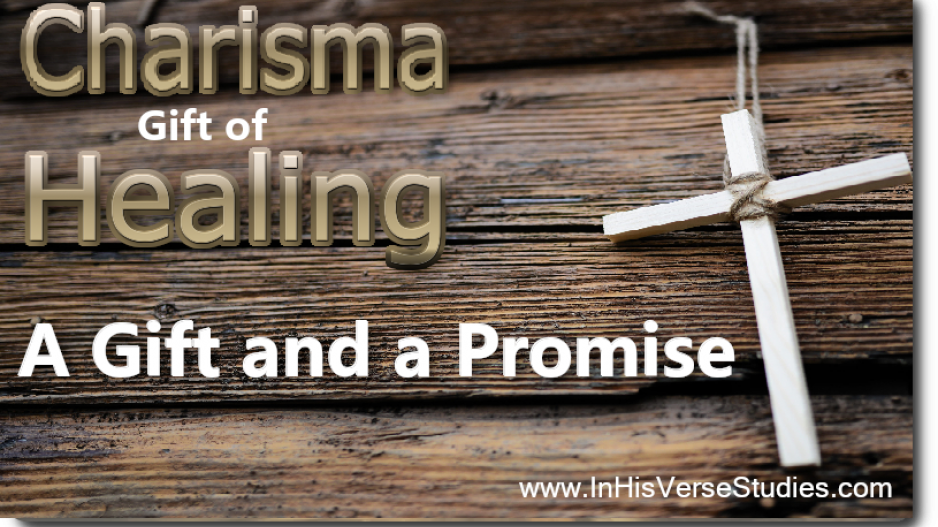 In a time of a pandemic, it is extremely important to remind believers that Jesus Christ heals today. Your elective surgery may be postponed, and you still need a physical touch because of the pain. Jesus is the one we go to, in pandemic even more now than ever. We???re looking at the charisma gift of healing, and how it???s more than just a gift of the Spirit, it???s a purchase made for us at the cross of Christ. Healing is listed among the gifts in 1 Cor 12:9 ???gifts (charisma) of healing (iomai) by that one Spirit.???
??
Healing is at the center of Christ???s ministry. His ability to heal people physically and spiritually brought large crowds to gather around him. Every Christian denomination believes in the basic tenant of spiritual healing; having our sins forgiven by a loving savior. But, healing is also physical and the good news is Jesus still heals his children today; because he lives in every believer???s heart. In this session???s key verse, we see Peter speaking to a paralyzed man. He said ???Jesus Christ heals you.??? That phrase, mixed with faith and the power of God, ended an affliction that Aeneas had to endure for eight years. The same is true for you, especially if your treatment has been delayed. Substitute your name in this key verse and join with me in faith.
??
Acts 9:34 ???Aeneas,??? Peter said to him, ???Jesus Christ heals (iaomai) you! Get up and put away your mat.??? immediately Aeneas got up,???
??
There are three Greek words used for healing: sozo, meaning salvation, therapeuo, which means attended by a physician and tonight???s word iaomai, which means ???to make whole.??? All three can mean physical as well as spiritual healing; that???s because the Bible teaches we have a body, soul and a spirit. Iaomai, which is the word used for the gift for healing is occasionally replaced with sozo, the word we know as ???saved from sin.??? The apostles were not as hung up as we are on different kinds of healing; they understood Jesus healed all manner of disease, physical and spiritual.
??
It???s important to understand that the gift of healing is the only gift of the Spirit that was specifically paid for at the cross; healing is part of the New Testament covenant paid for by the atonement of Christ. What that means is your request for healing is more than a general promise that God answers because he loves you; healing is as basic to any believer???s life as salvation. Please understand: Faith in the cross of Christ brings both eternal salvation and physical healing. Being saved from sin, having your life cleansed by Christ and repenting of your old way of life is spiritual healing (sozo). Your physical healing was purchased by the stripes which Christ endured. Peter used a Greek word molops, translated ???stripes,??? defined by Thayer as ???a bruise, wale, wound that trickles with blood.??? Jesus bore our pain in his body.
??
1 Pet 2:24 ???He Himself bore our sins in His body on the tree, so that we might die to sin and live to righteousness. ???By His stripes you are healed (iaomai).???
??
Wherever Jesus went, people were healed. His work of miracles and healings are proof that God is a God of love. He loves us. Healing should be incorporated as part of our sharing the Good News about Jesus. Jesus forgives sins and heals our diseases. In the following verse, Peter reiterates the need to be his witness. Being a witness, martys, in Greek (where we get the English word martyr from) means giving testimony in a court room. Christianity???s principle of ???give and it shall be given unto you??? should be practiced with healing. When you tell others that Christ heals; he, in return, sets us free from tormenting thoughts, delivering us from the devil???s bondage.
??
Acts 10:38 ???how God anointed Jesus of Nazareth with the Holy Spirit and with power, and how Jesus went around doing good and healing (iaomai) all who were oppressed by the devil, because God was with Him.?? 39 We are witnesses of all that He did, both in the land of the Jews and in Jerusalem.???
??
Mark relays a story of Jesus physically healing a woman who suffered from bleeding for twelve years. The exchange itself refers to physical healing, but Mark also meant for it to be understood spiritually as well, because he uses the word sozo, meaning a complete body, soul, spirit healing instead of iaomai.
??
Let???s look at this verse both visually and spiritually. Visualize a woman who looks quite weak, pale and sickly. She???s probably sitting down most of the time; her issue of bleeding has removed much of her physical strength. At the same time, see your life: The times you were ill in bed, couldn???t get up, and tired. Go on from there and spiritualize the event: Recall how many times have you just tried and tried at something but never seemed to complete the task at hand. You were, as it could be said, bleeding. The pressure from job, home, and family were all wearing you out.
??
Now visualize a cure: Jesus is walking into your room. The truth is: Right now, heaven is all around you. Scripture tells us we are surrounded by a great cloud of witnesses. See him? Not yet? Wait a bit. Ask him, come in. Now press to touch him. Raise your hands, stand up, say out loud ???Jesus, heal me.??? That is what this woman did and Jesus completely removed an unsolvable problem that existed for twelve years.
??
Mark 5:25 ???And a woman was there who had suffered from bleeding for twelve years.?? 26 She had borne much agony under the care of many physicians and had spent all she had, but to no avail. Instead, her condition had only grown worse.?? 27 When the woman heard about Jesus, she came up through the crowd behind Him and touched His cloak.?? 28 For she kept saying, ???If only I touch His clothes, I will be healed (sozo).????? 29 Immediately her bleeding stopped, and she sensed in her body that she was healed (iaomai) of her affliction.???
??
It???s important to understand that the gift of healing is more easily received at certain times. In fact, right now, as your faith is being strengthened, is a good time to ask Jesus to heal you. In this scripture from Luke, we see crowds coming to Jesus to be healed. But the healing meeting didn???t continue for days; Luke says ???He frequently withdrew to the wilderness to pray.??? The main lesson is there a peaks and valley times where God is actively healing and other times when heaven seems quieter. That quietness never means ???no;??? it means that a bigger blessing is awaiting.
??
Now, visualize the following verse. We see Jesus, going away from big crowds, withdrawing to the wilderness to be alone, to pray. As he comes out, he starts teaching. Crowds gather around him. When Jesus taught, a crowd was sure to follow, because he taught as one who had authority, someone whose teaching related directly to their everyday life. In this setting, Pharisees and teachers of the law showed up; in other words, Jesus??? enemies. The Jewish leaders did not approve of Christ and they were there to discredit him. It???s in this room filled with underlying hostility that ???the power of the Lord??? showed up to bring healing. We are reminded that when the power of God is present, healing takes place. Give God time in your day, to be alone with him, taught by him, and then receive his power. It???s at the time our faith is built up that God performs miracles.
??
Luke 5:15 ???But the news about Jesus spread all the more, and great crowds came to hear Him and to be healed (therapeuo) of their sicknesses.?? 16 Yet He frequently withdrew to the wilderness to pray.?? 17 One day Jesus was teaching, and the Pharisees and teachers of the law were sitting there. People had come from Jerusalem and from every village of Galilee and Judea, and the power of the Lord was present for Him to heal (iaomai) the sick.???
??
There???s another example in scripture where power was coming out from Jesus. As in the prior case, a large crowd came out to hear him, so teaching was involved. During this event the power of God came from Jesus. He healed the sick and healed, therapeuo, meaning ???attended to??? those who were troubled by unclean spirits. The end of the story is very powerful, for it teaches us the mindset we must be in to receive healing. Jesus said ???Blessed are you who are poor.??? Jesus came to save the poor, the weak, the hurting and wounded. Healing is for those who understand they are needy.
??
Luke 6:17 Then Jesus came down with them and stood on a level place. A large crowd of His disciples was there, along with a great number of people from all over Judea, Jerusalem, and the sea coast of Tyre and Sidon.?? 18 They had come to hear Him and to be healed (iaomai) of their diseases, and those troubled by unclean spirits were healed (therapeuo).?? 19 The entire crowd was trying to touch Him, because power was coming from Him and healing (iaomai) them all.?? 20 Looking up at His disciples, Jesus said: ???Blessed are you who are poor, for yours is the kingdom of God.???
??
In closing, remember to report what God has done to others. It???s important that God receives glory for everything he???s done.
??
Luke 7:21 At that very hour Jesus healed (therapeuo) many people of their diseases, afflictions, and evil spirits, and He gave sight to many who were blind.?? 22 So He replied, ???Go back and report to John what you have seen and heard: The blind receive sight, the lame walk, the lepers are cleansed, the deaf hear, the dead are raised, and the good news is preached to the poor.
??
Definitions are from InHisVerse Bible (IHV) - www.InHisVerse.com.
Copyright???? 2019, 2020, Jim Olsen, Olsen's Apps LLC, All Rights Reserved
Bible Quotations From: The Holy Bible, Berean Study Bible, BSB (BereanBible.com). Copyright ??2016, 2019 by Bible Hub. Unless Otherwise Noted.