Grace Intro: Charis Builds Up and Purifies
04-28-2019
Key Verse
Acts 20:32 ???And now I commit you to God and to the word of His grace (charis), which can build you up and give you an inheritance among all who are sanctified."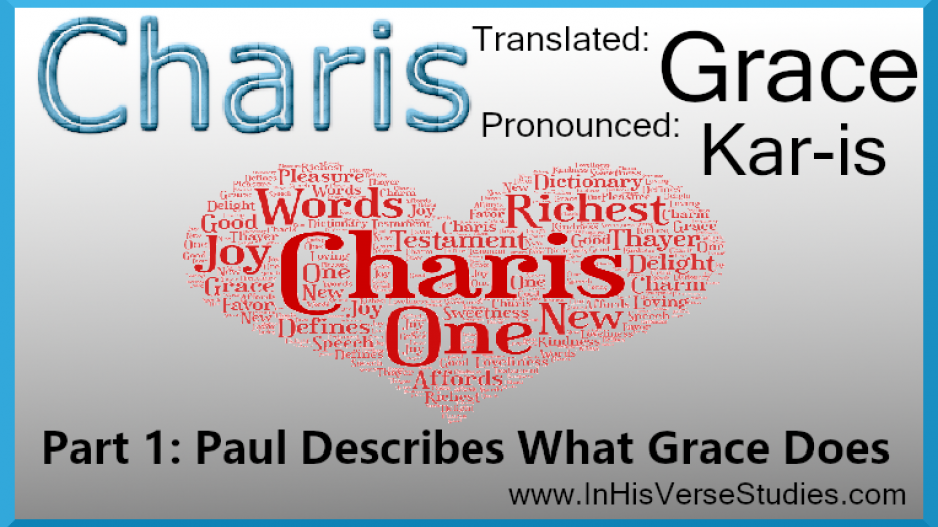 Grace (Greek, charis), is at the center of the Christian faith. Its true definition is found in the rich variety of uses in the New Testament. This is an introduction to the Greek word for Grace, charis. In this session, we???ll be looking how Paul defined Grace in the Book of Acts. Charis is one of the richest words in the New Testament. Thayer???s dictionary defines it as ???that which affords joy, pleasure, delight, sweetness, charm, loveliness: grace of speech,??good will, loving-kindness, favor.??? This first session kicks off a series of 30 or more teachings on grace and its related words.
??
Many Christians misunderstand grace. It???s not God accepting everything you do, rather, it???s God???s gracious gift that gives you the ability to live your life pleasing to the Lord, providing you the peace, power and love to live your life. Grace is at the center of all we do as Christians. I???m choosing Acts 20:32 as a theme verse for this study.?? ???And now I commit you to God and to the word of His grace (charis), which can build you up and give you an inheritance among all who are sanctified. ???Acts 20:32
??
Let???s look at that verse a little deeper in the Greek. It explains what Paul means when he uses the word charis or grace.?? We???ll start examining it as an Eastern style of writing, where the point or object of a verse is not revealed until the end and reading it backward brings out more truth. I call the method ???build up reading.???
??
Paul says grace sanctifies; it purifies. It???s God???s gracious gift that gives us the ability to make pure, holy decisions; to be like God. Paul centers this scripture to ???all those who are sanctified.??? The Greek word hagiazo, means ???to make holy, sanctify, and, especially, purify.?? Here???s how Paul used hagiazo elsewhere.?? 1 Cor 6:10 ???nor thieves, nor the greedy, nor drunkards, nor verbal abusers, nor swindlers, will inherit the kingdom of God.?? 11 And that is what some of you were. But you were washed, you were sanctified (hagiazo), you were justified, in the name of the Lord Jesus Christ and by the Spirit of our God.???
??
Sanctification by grace is a beautiful thing. No longer do you have to worry about getting beat up, attacked, stolen from, having eyes that want to demean your dignity. No, grace purifies. An obvious comparison is to a holiday dinner table. One that???s filled with grace will be you best holiday ever; trusting everyone; enjoying everything. Here???s a verse that tells you what Jesus wants to do in your life. 1 Thes 5:23 ???Now may the God of peace Himself sanctify (hagiazo), you completely, and may your entire spirit, soul, and body be kept blameless at the coming of our Lord Jesus Christ.???
??
Paul also describes grace as giving ???you an inheritance???. Throughout the New Testament, we encounter the terms heir and inheritance. When we belong to Christ, we need to be part of his family. His family is pure, because God is sinless and holy. God???s heart is that you become his son, his heir, not a slave, as Paul said in Gal 4:6-7 ???And because you are sons, God sent the Spirit of His Son into our hearts, crying out, ???Abba, Father!????? So you are no longer a slave, but a son; and since you are a son, you are also an heir through God.???
??
Having an inheritance means we???ve been adopted into a family where the Father made everything we see and everything we are. He holds everything together in his hands. Paul talks about this in Eph 1: 18 ???I ask that the eyes of your heart may be enlightened, so that you may know the hope of His calling, the riches of His glorious inheritance in the saints??? This inheritance is ???glorious,??? as in Heb 1:3 ???The Son is the radiance of God???s glory and the exact representation of His nature, upholding all things by His powerful word.??? He also says there are riches in his inheritance that are not centered on human riches, but the riches of eternity. Consider Rev 5:12 ???In a loud voice they said: ???Worthy is the Lamb who was slain, to receive power and riches and wisdom and strength and honor and glory and blessing!??????
??
The biggest attribute of grace, the one we???ll be spending the most time on is the power of grace to ???build you up??? whereas religion and rules do just the opposite, as found in the Greek word, oikodomeo, which literally means a house builder. To the Christian, grace is an encouragement; God gives grace to strengthen us and builds us up. Encouragement is central to the faith. Paul tells us in 1 Thes 5:10-11 ???He died for us so that, whether we are awake or asleep, we may live together with Him.?? Therefore encourage and build (oikodomeo) one another up, just as you are already doing.???
??
As we go along through other studies, we???ll find this word grace, or charis, to be one of the most welcoming words you???d ever encounter. The goal is to stop at the word, consider what it means. That you???ve been freely given grace, a gift that purifies your life, helps you to live holy, makes you welcome into God???s family by a free inheritance paid for by Jesus Christ and it helps you grow, building your life upon a foundation that the Bible says cannot be shaken ??? the Rock of Jesus Christ.
??
Let???s summarize this grace with a verse from 2 Tim 1: 9 ???He has saved us and called us with a holy calling, not because of our own works, but by His own purpose and by the grace (charis) He granted us in Christ Jesus before time eternal.?? 10 And now He has revealed this grace (charis) through the appearing of our Savior, Christ Jesus, who has abolished death and illuminated the way to life and immortality through the gospel.???
??
Definitions are from InHisVerse Bible (IHV) - www.InHisVerse.com.
Copyright???? 2019, 2020, Jim Olsen, Olsen's Apps LLC, All Rights Reserved
Bible Quotations From: The Holy Bible, Berean Study Bible, BSB (BereanBible.com). Copyright ??2016, 2019 by Bible Hub. Unless Otherwise Noted.