Last updated
11 months ago
Grace 3 - Charis: Power to Live Like Christ
05-04-2019
Key Verse
Acts 4:33 ???With great power (dynamis), the apostles continued to give their testimony about the resurrection of the Lord Jesus. And abundant grace (charis) was upon them all.???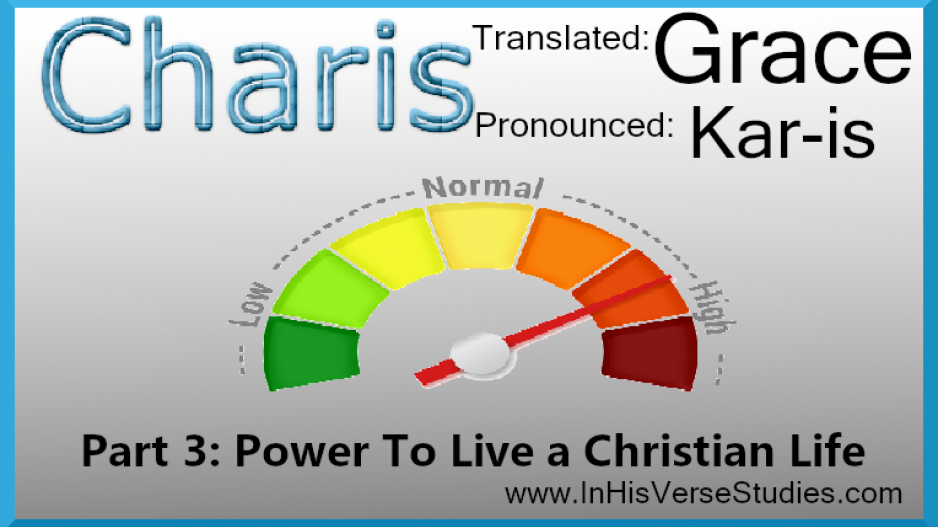 God???s grace is his enabling power. We???ll be looking at the original Greek word, charis, from 3 perspectives. Grace empowers, gives us gifts and it opposes the works of the law. This session is about how grace gives us power and sustains us. Verses about abounding grace, power that is made available by grace, thankfulness used as a synonym, an approachable throne of grace and singing your way to grace are explained in light of the Greek words supporting them.
??
Do you want God in your life? First, let???s consider what he is like. The Bible teaches us Jesus is the human image of God. The Holy Spirit???s fruit, which is love, joy, peace, patience, kindness??? is at the center of who God is. And the word grace, Greek charis, explains it all. Thayer???s definition covers it; ???that which affords joy, pleasure, delight, sweetness, charm, loveliness: grace of speech,??good will, loving-kindness, favor.???
??
This session centers in on how ???abundant grace??? is upon us as we start a work for God.?? Grace is linked with power and testimony. Power, the Greek word dynamis, is what grace provides. It???s the working of miracles along with the power to live a Godly life. Testimony, Greek, dynamis, was a word used for a sworn in, truthful witness at a trial; notice how the Greek resembles the English word martyr. In this verse as in many, grace is used in a way like it has substance; the church felt the joy and delight that Jesus brings.?? Acts 4:33 ???With great power (dynamis), the apostles continued to give their testimony about the resurrection of the Lord Jesus. And abundant grace (charis) was upon them all.???
??
But, we live in a word that not all is peace and joy. By the time Acts 14 came around, the church was being poisoned, Greek kakoo, meaning ???oppress, inflict, harmed??? by unbelieving Jews.?? In the middle of this persecution, God used signs and wonders to counteract the poisoning, declaring the Lord ???affirmed the message of his grace???. Stubborn and willful unbelievers are no match for the display of the miraculous power of God. Pray right now, ask Jesus for his power, that any people who trouble your faith are reassured by grace, a presence of joy and sweetness from your life. ??Acts 14:2 ???But the unbelieving Jews stirred up the Gentiles and poisoned (kakoo, oppressed) their minds against the brothers.?? 3 So Paul and Barnabas spent considerable time there, speaking boldly for the Lord, who affirmed the message of His grace (charis) by enabling them to perform signs and wonders. ???
??
Grace works regardless of your past, Paul described it as overflowing, Greek hyperpleonazo, meaning super-abounding, the word was used of the leftovers after feeding the 5,000. Notice how these verses are surrounded by grace. He begins by attributing the sweetness and joy in his life to Jesus, who strengthened him, a Greek word related to dynamis. Grace filled Paul???s life in spite of him being a very hardened, violent sinner ??? But that???s what Jesus is all about! ??1 Tim 1:12 ???I thank (charis) Christ Jesus our Lord, who has strengthened me, that He considered me faithful and appointed me to service.?? 13 I was formerly a blasphemer, a persecutor, and a violent man; yet because I had acted in ignorance and unbelief, I was shown mercy.?? 14 And the grace (charis) of our Lord overflowed to me, along with the faith and love that are in Christ Jesus.???
??
Grace was intended to strengthen your life so much, that God has a ???throne of grace.??? Jesus is very approachable. If you are thinking now, ???I better get my act together first???, then you are in need of a grace overhaul. Almost everyone in our society shares that thought ??? that to get good things you have to be good. But that???s not how our Lord Jesus works.?? He sees our weakness; he knows how easy it is to fall into the wrong way. Jesus was tempted in the exact same way that each one of us are, yet he did not sin. Why? Theologically speaking, Jesus was fully man, he had the exact same nature that prefers sin to righteousness, but he was the forerunner of a new way; a way where there was a ???throne of grace??? open and available to everyone who needs it. Notice the throne of grace gives us mercy and grace. In this case grace helps us in our time of need. Who doesn???t need God???s joy, sweetness and the answer to their prayers? Read Hebrews 4:14-16 with new vigor
??
Hebrews 4:14 ???Therefore, since we have a great high priest who has passed through the heavens, Jesus the Son of God, let us hold firmly to what we profess.?? 15 For we do not have a high priest who is unable to sympathize with our weaknesses, but we have one who was tempted in every way that we are, yet was without sin.?? 16 Let us then approach (worshipfully) the throne of grace (charis) with confidence (boldness), so that we may receive mercy and find grace (charis) to help us in our time of need. "
??
Another way that grace can strengthen you, increase your sense of God???s sweet presence is found in Col 3:15-16. Singing psalms, hymns and spiritual songs invite the grace of God.?? Most English translations hide the usage of charis here, but it???s very important. How about doing this? Connect to the ???throne of grace??? mentioned in Hebrews 4 which is to be approached ???worshipfully???, with songs and hymns. There???s a ton of worship music on YouTube and other streaming sites; let the grace of God, his joy, sweetness, loveliness fill your heart. And you know what, being filled with the good things will give you less time to stress out and do what is wrong. Col 3: 15 ???Let the peace of Christ rule in your hearts, for to this you were called as members of one body. And be thankful (a variant of charis).?? 16 Let the word of Christ richly dwell within you as you teach and admonish one another with all wisdom, and as you sing psalms, hymns, and spiritual songs with gratitude (charis) in your hearts to God.???
??
I???ll end this session with a blessing. There are people praying for you. The Bible says we are surrounded by a great cloud of witnesses, wanting you to meet your maker, your savior. You meet him by inviting him into your heart and then proclaiming you did to another, see Rom 10:9-10. Join in Paul???s prayer and be blessed by the grace of our Lord Jesus Christ. 2 Thes 1:11 ???To this end, we always pray for you, that our God will count you worthy of His calling, and that He will powerfully fulfill your every good desire and work of faith,?? 12 so that the name of our Lord Jesus will be glorified in you, and you in Him, according to the grace (charis) of our God and of the Lord Jesus Christ.???
Definitions are from InHisVerse Bible (IHV) - www.InHisVerse.com.
Copyright???? 2019, 2020, Jim Olsen, Olsen's Apps LLC, All Rights Reserved
Bible Quotations From: The Holy Bible, Berean Study Bible, BSB (BereanBible.com). Copyright ??2016, 2019 by Bible Hub. Unless Otherwise Noted.